Category —
Bread, Biscuit, + Dough Recipes
My friend Lori raved about a french toast panini she had at a restaurant in the Hamptons, called the Elvis. She described it as "2 slices of french toast with peanut butter and bananas inside, smooshed together in a panini press." I was sold on the idea, and she had just had a baby so I was trying to be nice and stuff because having a baby is hard. So I offered to try and recreate it, with a few twists of course.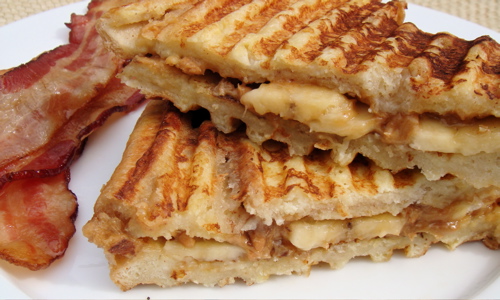 October 7, 2009 3 Comments
I made Heidi's Salt-Kissed Buttermilk Cake from 101Cookbooks last week, and want to encourage you to try it! The cake came out incredibly moist and delicious, and was easy to make.
I made it as a dessert, which was OK, but I think it would be an absolute knock-out for brunch. Next time I'm going to cover the entire top with berries. I used big smooshy blackberries and wished I had one in every bite!
March 20, 2009 No Comments
I love banana bread, but sometimes it's a little ho-hum. I spiced this one up by incorporating coconut milk and fresh ginger, which add moistness as well as a subtle but delicious flavor.
I made the banana bread to serve at the clothing swap I recently hosted. If you've never done one, I highly recommend it! This tanking economy is the perfect time and place for you to swap clothes with your friends, because you get to clean out your closet and give to charity while picking up some new duds for yourself- all for free. This time around I scored a bunch of great items, including a pair of jeans that fit perfectly, a super-hawt Marimekko-ish FCUK top, and an adorable pair of Marc Jacobs heels with little hearts all over them. For info on how to host a clothing swap, check out this handy guide from RookieMoms.
Coconut-Kissed Banana Bread
makes 1 loaf
Ingredients:
6 T soft butter
1/3 cup sugar
1/3 cup lightly packed brown sugar
2 eggs
2 ripe bananas
½ c coconut milk
1 tsp vanilla
1 tsp fresh grated ginger
1 cup flour
1 cup oat flour
2 tsp baking powder
½ tsp baking soda
large pinch salt
¼ cup toasted coconut*
Method:
Preheat the oven to 325 degrees.
Cream butter and sugars until light and fluffy, about three minutes. Add eggs 1 at a time and combine completely after each addition.
Add bananas, coconut milk, vanilla, and ginger and mix to combine.
Add dry ingredients and mix just until blended. Don't overmix. Fold in coconut.
Pour into a lightly greased loaf pan and bake about 1 hour, until a toothpick comes out clean.
Cool on a rack. Serve warm if possible.
* to toast coconut: spread out on a parchment-covered sheet. Toast in 350 degree oven just until it begins to brown, about 3-6 minutes. Keep a close eye on it as it can go from raw to burnt very quickly!
January 28, 2009 No Comments