Category —
Food & Wine Products
Do you have enough labneh in your life? It really is delightful stuff. In case you're not familiar with it, labneh is simply strained, full-fat yogurt – thick, creamy, tangy, and good on everything. It's a staple of the Levant region (Lebanon, Syria, Palestine, Israel, and Jordan) and it should always be in your fridge.
You probably already know that the hummus at Trader Joe's is pretty tasty. I used to make hummus from scratch but now I often just make the TJ's hummus all fancy looking and homemade which is way easier and still super delicious. So, buy the hummus, put it in a different bowl, drizzle some high quality olive oil over it, sprinkle with fleur de sel or black flake salt, and then sprinkle over a good amount of garam masala or ground cumin. I'm eating some right now.
I love the multigrain pita chips at TJ's too! Or, even better, you can also make your own hot delicious pita chips by cutting up pita bread, drizzling with olive oil and salt, and baking them in the oven for 10 or 15 minutes until crispy.
No one will know your dirty little secret!
Recently I made a pretty life-changing discovery, which is that I can make incredibly delicious strawberry jam with only 3 ingredients, and it's super easy to do. Jam consumption in the household has skyrocketed, but since it's so easy to make, it's no big deal to turn out another batch.
I am one of those rare San Francisco natives – that's right, I popped out at UCSF hospital and grew up in Cole Valley. After a stint in San Diego for college, and a few formative years in Brooklyn, I moved back to the city for good. I tried out the Tenderloin, the Mission, and even (gasp) Oakland before settling into the Castro. So believe me when I tell you that I know my San Francisco treats. Here are 10 things to eat in San Francisco before you die, in no particular order.
Carnitas Burrito "Dorado Style" at La Taqueria
What if you took a perfect, rice-free burrito and then grilled it on a flat-top to give it an extra crunch? That's what they have been doing at La Taqueria for decades. This is the best burrito out there. I love it so much I constructed an epic gingerbread La Taqueria last Christmas. It's that good. It was also recently voted best burrito in the U.S. Don't listen to those carpetbaggers who claim allegiance to Taqueria Cancun or El Farolito. I theorize that those people only eat burritos when they are drunk so their burrito judgment is impaired.
Brutti Ma Buoni Cookies at Dianda's 
[Read more →]
A friend recently told me she had received a jar of truffle salt as a gift, but didn't know what to do with it. She came to the right place, for I have answers! And strong opinions about what you can do with it!
Do you believe in reincarnation? Based on how much I enjoy making and eating rainbow foods, I think I may have been a unicorn in a former life. I have been wanting to try rainbow cookies for some time now but all of the recipes I found looked pretty cool but seemed like they wouldn't actually taste that great. So I felt compelled to invent the rainbow tie-dye snickerdoodle, which offers both good looks and great taste.

So how did I do it? It was a little laborious but not too difficult to pull off. I made snickerdoodles and divided the dough into 6 roughly equal parts. I colored each of these with one of the colors of the rainbow: red, orange, yellow, green, blue, and purple. After some time in the fridge to chill the colored doughs, I set up an assembly line and tore off little wads of each color and made a dough caterpillar. I turned the caterpillars in on themselves and rolled them gently into balls. Then I rolled the balls in white sugar and set them on the cookie sheet.

Since tonight I officially returned to my Italian lessons after a 6 month hiatus, I was inspired to share my Rome travel guide. I have emailed this list of recommendations to so many people, but somehow it has never made it onto the blog. I'm excited to report all of my favorite things to do and eat in Rome, organized by neighborhood. I can't wait to go back so I can expand this list even further!
Centro Storico [Read more →]
Hanoi is a fun, vibrant, dirty, smoggy, incredible city that I can't recommend highly enough. It's modern and old-fashioned and surprising and busy. It's Vietnam with a French Instagram filter.
Just when you can't take almost being run over by 22 dozen mopeds anymore, you can duck into a soothing courtyard oasis and eat something wonderful. And in hindsight, I spent nearly a week there and basically all I did was eat and take pictures. So if that sounds good to you, keep reading!
[Read more →]
Two abhorrent "tacos" (and I use the term lightly and with a slight vomit taste in my mouth) have recently come to my attention, and I can't decide which is more gross. First up, we have this "ramen taco", because really, who doesn't want to eat the entire packet of ramen noodles rendered even drier than they normally are, with no (secretly delicious) MSG-laden seasoning in sight, filled with standard taco toppings?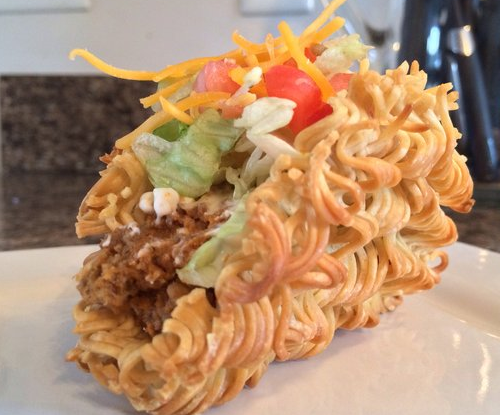 I recently went back to what I think might be my #1 favorite Chinese city: Shanghai. I have met so many Westerners who tell me they don't like Shanghai, but I think the problem is that it's like New York or London or any other huge metropolis: it is so big and there are so many things to do that it can be hard to crack past the touristy spots and get into the real Shanghai. But once you figure out what to do and where to go, it is a fantastic cosmopolitan destination that should be on everyone's short list.
This trip, we made a point of discovering great street food, trying restaurants that represent cuisine from different parts of China, and exploring some hidden treasures. Here are my recommendations to help you figure out all of the very best things to do in Shanghai. And be sure to read my previous post for a complementary set of recommendations so you'll be totally well-versed on all that's great about this busy city!